Display Alliance
Friday, June 3, 2016
Comment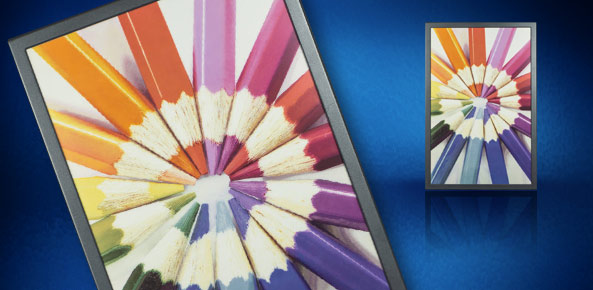 Image via Sci-Tech Today
Display Alliance is sponsored by Smarter Glass ( www.smarterglass.com ) , a leading distributor and solutions provider with nearly 15 years specializing in the global LCD display industry and PCAP touchscreens. This blog is an open resource for the display industry and welcomes content and sponsorship from readers. Contact us to discuss how we can work together on Display Alliance. For display panels, visit the Smarter Glass display database to search and compare thousands of panels side-by-side.
E Ink Unveils New Full Color Display " A new display from E Ink can produce full color at every pixel, without having to rely on a color filter array (CFA), the company said today. The electrophoretic display, known as Advanced Color ePaper (ACeP), will be primarily used for digital signage at first. " via Sci-Tech Today
How To Play China's Shift From LCD To OLED? " Apple (AAPL) is long rumored to have hired Samsung Electronics (005930.Korea/SSNLF) to supply OLED screens for its iPhones next year. But the OLED technology is picking up in the TV space as well. " via Barron's
New controller technology enhances management precision and simplicity at Illinois Sow Farm " As a full-time pork producer who is also responsible for taking care of her own family, Clare Schilling welcomes new technologies that can help simplify and streamline the management of her hog operations. Despite recent advancements in many facets of pork production, most swine facilities today still rely on older, less efficient technology when it comes to environmental controllers. " via National Hog Farmer
ASUS Readies ROG Laptops with Optional 120 Hz AHVA Display Panels " In the recent years, ASUS became one of the world's largest supplier of gaming notebooks and gaming displays. Having obtained a lot of expertise in building monitors and laptops for gamers, the manufacturer decided to apply it knowledges to build laptops with display panels featuring 120 Hz refresh rates. " via The New Yorker
LG Supplying Xiaomi with Curved Display Panels " Samsung may be the one selling curved display smartphones right now. But they aren't the only manufacturer making curved displays. LG has been working on them for a few years as well. In fact, they have used a curved display in smartphones like the LG G Flex, although not as curved as what we have on the Samsung Galaxy S7 Edge, it is still a curved display but, it's better known as a flexible display. " via Android Headlines
UGA professor, students experiment with giant touch-screen technology " University of Georgia students are conducting a kind of experiment in a classroom of UGA's Davison Life Sciences Building this month, but not the kind you'd usually think of in connection with the university's genetics department. " via The New Yorker
Panasonic pulls plug on LCD TV panels in Japan " Panasonic pulls plug on LCD TV panels in Japan " via Japan Times
InFocus Adds Impact to Interactive Touchscreen Solutions With Projected Capacitive Touch Technology and 4K Resolution " adding premium capabilities, including projected capacitive touch and 4K resolution, to a variety of its interactive touchscreen and video conferencing solutions, the company announced today. InFocus created the original all-in-one video conferencing touchscreen solutions and the company is once again defining the category " via Twice
What Display Technology Advances Are Needed to Keep Up With the Growing VR Market? " Virtual Reality (VR) is a digital immersion technology. Instead of "watching a movie," you are "participating in the movie," and user movements and actions are reflected into the movie storyline. " via ECN
What did you think about today's news? Leave a comment here and share your thoughts.